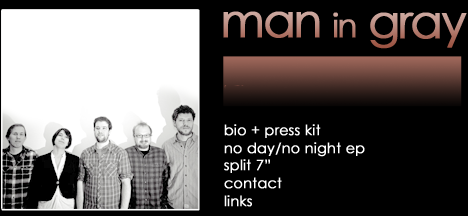 Man In Gray plays noisy, whip-smart indie rock with one pretty guitar, one ferocious guitar, one punk bass, and one jackhammer drummer. Screams and whispers from Tina rise above the mayhem like a lightning rod, drawing it all together. With songs about shock, awe, and why February 14th is dumb, Man in Gray turns familiar post-punk sources into something entirely new. Even as they play heart-racingly hard and fast, they never sacrifice precision or the pretty parts. Their live show is a wake-up call for the bored, the jaded, the tired, the arms-folded mopers. It's an enthusiastic soundtrack to mayhem, careening from sharp pop harmonies to violent, sweaty rock. A little dancey, a little trashy, yet somehow always classy.
Man in Gray enjoys: the Pixies, Mission of Burma, Sleater-Kinney, the Secret Machines, the Thermals, Brooklyn, long walks on the beach, going to their friends' gigs, and reading books about the inadequacies of the Whig Party prior to The Civil War. Their favorite drink is more scotch.
Full press kit, including press points is available here.
"[Tina DaCosta has] one of the most satisfying shrieks in rock."
- The Village Voice
"Man In Gray [is] a Brooklyn band that spans the space between rock and pop with grace. Tina [DaCosta], the singer, is the gem of Man In Gray, bringing all the elements together."
– The New York Press
"Nineties irony brought the death of punk but that doesn't mean the kids of the '00s can't try to resuscitate… Influences by the canon of music found in many an alternakid's collection (Sonic Youth, Elliot Smith, The Pixies, Pavement), it's woth seeing what their noble efforts turn up."
– The Village Voice
"Great punky influences and a knack for conveying emotions through wired guitars."
– Time Out New York